Housekeeping
A note on grades:
About 50% of final grades has been already distributed (if you've done an been graded for a group presentation). Since the deadline for dropping is this week (Friday, November 10), this is a good time to assess your progress:

If you've earned fewer than 100 points so far, it is no longer mathematically possible to get a passing grade (this number is slightly higher if you still have a group presentation left)
If you've earned 200 or fewer, it will take a lot of hard work to pass with a grade in the D range
Keep in mind that participation points are only assigned at the end of term. In order to get a sense of how they will feature in calculations for your final grade, think back to your level of engagement, punctuality, and attendance. If you have never or very rarely spoken in class, missed more than 2 classes, and arrived late on several occasions, your participation grade will suffer.
Commonplace book checkpoint:
Between now and Week 13, make an appointment to see me and discuss your Commonplace Book. You will of course have to bring it with you (digital or material). This is the last checkpoint before a final grade is awarded for the completed project, so aim to have as much completed as possible.
By November 20th, everyone should have their Reflection Draft posted to Blackboard. I will make comments and suggestions for final revision.
Speaking of which: let's review and discuss the rubric for the Commonplace Book Assignment.
---
---
A speedy intro to Renaissance Theater 
Evolved from Medieval Morality Plays; switch from morality to entertainment –> religion and moral connected to politics
What it looks like:

Public (outdoors): larger audiences, mixed classes, mostly standing room
Private (indoors): much smaller audiences, mostly upper class, seated
Who attended: in the public theaters, men and women of all classes, from prostitutes to salesmen, to some nobility (who got special seats)
Types of plays: History, Comedy, Tragedy (Classic influences, but also developing an English genre)

Commedia Del'Arte influences: stock characters
Latin/Classical influences: five acts, Aristotelian unities, rhetorical speeches (soliloquies)
Some conventions: poetry; asides; minimal scenery: clues come from the text; trapdoor and heavens
Where are the women?
The place of print: depends who you ask…
---
Christopher Marlowe (1564-1593)

: The Most Interesting Man in the (Early Modern) World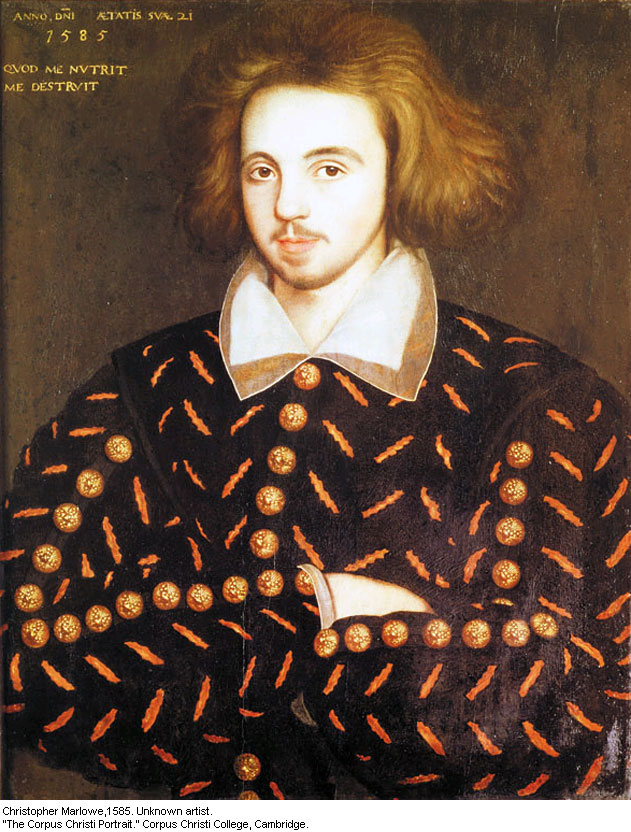 Contemporary of Shakespeare, John Lyly, Thomas Kyd
Studied at Corpus Christi college at Cambridge (B.A. and M.A.)
Notable Works:

Dido, Queen of Carthage (w. 1585 p. 1594)
Tamburlaine the Great (w. 1586 p. 1590)
Doctor Faustus (c. 1588 p. 1604; 1616)
The Jew of Malta (w. 1589 p. 1633)
Edward II (c. 1592  p. 1594)
The Massacre at Paris (c. 1593 p. 1600ish)
Hero and Leander (incomplete; p. 1598)
The Passionate Shepherd to his Love (p. 1600)
Robert Greene accused him of saying 'There is no God', and of embracing 'pestilent Machivilian pollicy' and 'diabolicall Atheism'." Later accused by Thomas Kyd, who had been imprisoned and questioned about seditious atheist pamphlets. — All true, or negative propaganda?
An English Spy?

Accused of being in cohorts with Catholics in France. A report came in his favor stating that hehad "no such intent", and had been acting on the queen's service for "the benefit of his country".

Arrested and accused of treason — counterfeiting and planning to sell secrets to Rome — never punished for long. This may be evidence of the Government "interfering" on his behalf, or that he was being set up…
Died in a bar fight (err, kind of!) in 1593, supposedly over an argument about the bill at a local tavern.
The "morning star" to Shakespeare's "rising sun" (Tennyson)?

Credited with being the first to use blank verse (unrhymmed iambic penthameter) in drama.
Ben Jonson refers to "Marlowes mighty line" in his ode to Shakespeare
---
Doctor Faustus
Take a couple of minutes writing down one question you have about the play. This question might be contextual (i.e. is scene X referring to a particular historical moment?/how would the EM audience react seeing Y); performance-focused (how would they have staged X?); or plot-driven (what is the purpose of character A or plot-point B?). Either way, your question should make reference to a specific scene or passage. I may call on you to ask your question to the class, so be prepared!
Composition time unclear

"A text" (1604) believed to be Marlowe's original playtext; "B text" (1616) may be collaborative work + censorship
Source text: The Damnable Life and Deserved Death of Doctor J. Faustus 

Faustus legend: real man (?) who lived in Germany around the 14th century and  studied alchemy
Genre: Dramatic Tragedy

Aristotelian Tragedy: tragic hero; catharsis
The occult: would have been taken very seriously by the Renaissance audience
Background: The English Reformation; Humanism

Luther's nails of his "Ninety-Five Theses" on the doors of a Wittenberg church (1517)
Prologue
CHORUS. Not marching now in fields of Thrasymene,

Where Mars did mate the Carthaginians;

Nor sporting in the dalliance of love,

In courts of kings where state is overturn'd;

Nor in the pomp of proud audacious deeds,

Intends our Muse to vaunt her heavenly verse:

Only this, gentlemen,—we must perform

The form of Faustus' fortunes, good or bad:

To patient judgments we appeal our plaud,

And speak for Faustus in his infancy.

Now is he born, his parents base of stock,

In Germany, within a town call'd Rhodes:

Of riper years, to Wertenberg he went,

Whereas his kinsmen chiefly brought him up.

So soon he profits in divinity,

The fruitful plot of scholarism grac'd,

That shortly he was grac'd with doctor's name,

Excelling all whose sweet delight disputes

In heavenly matters of theology;

Till swoln with cunning, of a self-conceit,

His waxen wings did mount above his reach,

And, melting, heavens conspir'd his overthrow;

For, falling to a devilish exercise,

And glutted now with learning's golden gifts,

He surfeits upon cursed necromancy;

Nothing so sweet as magic is to him,

Which he prefers before his chiefest bliss:

And this the man that in his study sits.

(1-27)
Scene 1 — Faustus' opening monologue
What do we learn about Faustus? What are his motives and ambitions?

"Then read no more, thou hast attained the end;
A greater subject fitteth Faustus' wit" (i.10-11)
"Yet thou art still but Faustus, and a man" (23).
"The reward of sin is death? That's hard.
… Why then belike we must sin,
And so consequently die" (40-45)
Good Angel and Evil Angel (69)
Valdes and Cornelius
"Indian Moors" and "Spanish Lords" (120)
Scene 2 — Two scholars
Rhetoric and Religion
Function of this transitional scene?
Humor? Mockery?
Scene 3 — The first conjuring and a warning
The face of Hell
Mephistophilis's advice

Why this is hell, nor am I out of it.
Thinkst thou that I, who saw the face of God,
And tasted the eternal joys of heaven,
Am not tormented with ten thousand hells
In being deprived of everlasting bliss?
O Faustus, leave these frivolous demands,
Which strike a terror to my fainting soul.
(iii.75-81)
Scene 4 — A clown's point of view
Comic relief?
Transitional scene?
Scene 5 — Faustus sells his soul
"Now Faustus, must thou needs be damned,
And canst thou not be saved" (v.1-2)
Angels return (14)
The contract
First, that Faustus may be a spirit in form and substance
Secondly, that Mephastophilis shall be his servant, and at his
command.
Thirdly, that Mephastophilis shall do for him, and bring him whatso-
ever.
Fourthly, that he shall be in his chamber or house invisible.
Lastly, that he shall appear to the said John Faustus at all times, in
what form or shape soever he please….
(v.95-103)
Heaven and Hell

Does Faustus believe in Hell at this point?
What are some of Mephastophilis' limitations?

Repenting (lines 188-215)
Parade of Sins (lines 280-330)
Scene 6 — Dangerous ignorance
Scene 7 — Spying on Rome
Chorus 2
WAGNER. Learned Faustus,
To know the secrets of astronomy
Graven in the book of Jove's high firmament,
Did mount himself to scale Olympus' top.
Being seated in a chariot burning bright,
Drawn by the strength of yoked dragons' necks.
He now is gone to prove cosmography,
And, as I guess, will first arrive at Rome
To see the pope, and manner of his court,
And take some part of holy Peter's feast,
That to this day is highly solemnized. (1-11)
Playing "ghosts" with the pope (60-95)
Scene 8
Does this change how we feel about Mephastophilis?
Chorus 3
When Faustus had with pleasure ta'en the view
Of rarest things, and royal courts of kings,
He stayed his course, and so returned home;
Where such as bear his absence but with grief,
I mean his friends and near'st companions,(5)
Did gratulate his safety with kind words,
And in their conference of what befell,
Touching his journey through the world and air,
They put forth questions of Astrology,
Which Faustus answered with such learned skill(10)
As they admired and wondered at his wit.
Now is his fame spread forth in every land;
Amongst the rest the Emperor is one,
Carolus the Fifth, at whose palace now
Faustus is feasted 'mongst his noblemen.(15)
What there he did, in trial of his art,
I leave untold—your eyes shall see performed.
Scene 9
 Performing for the Emperor

Our first scene at court. Why would Faustus bother doing this?
Alexander the Great and his paramour

What's the significance of this figure?
Why can't Faustus bring back the real thing?
The punished knight (ix.65-85)
Scene 10
Dealings with the horse-courser
Devil magic — Faustus's ripped leg!
Scene 11
Pleasing the Duke
Fresh grapes
Chorus 4
WAGNER. I think my master shortly means to die,
For he hath given to me all his goods:
And yet, methinks, if that death were so near,
He would not banquet, and carouse and swill
Amongst the students, as even now he doth,(5)
Who are at supper with such belly-cheer
As Wagner ne'er beheld in all his life.
See where they come! belike the feast is ended.
Scene 12
The scholars return
Helen of Troy

This play doesn't much care for women. What do we make of this?
Satan begins to sift me with his pride:
As in this furnace God shall try my faith,(5)
My faith, vile hell, shall triumph over thee.
Ambitious fiends! see how the heavens smile
At your repulse, and laugh your state to scorn!
Hence, hell! for hence I fly unto my God.  
Scene 13
Faustus begins to despair
Can he still be saved? Could he ever?
The clock strikes, again and again
Faustus's final speech (57-105)
Epilogue
Cut is the branch that might have grown full straight
And burned is Apollo's laurel bough,
That sometime grew within this learned man.
Faustus is gone; regard his hellish fall,
Whose fiendful fortune may exhort the wise
Only to wonder at unlawful things,
Whose deepness doth entice such forward wits,
To practice more than heavenly power permits.
Moral of the story?
Criticisms of the Renaissance?
Why so many warnings of repentance?
Marlowe as playwright?